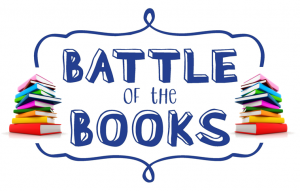 Battle of the Books (BOB) is coming to Murch this spring and your 2nd-5th grade is invited to participate!
BOB is a trivia-style competition for 2nd through 5th graders and is designed to motivate students to read high-quality children's literature.  Battles will begin in mid-February 2023 and the championship battles will take place in April.
Each grade level (2nd-5th grade) has a book list of titles.  Students are encouraged to read as many of the titles on their lists as they can. (Most titles are available through the Murch library, though some quantities may be limited. Students are encouraged to also check their neighborhood libraries for titles.)
For the BOB booklist/bookmarks, click HERE.
How Does the Battle of the Books Work?
Each classroom is a battle team. Students are not required to participate, but they are considered part of the team.
This year, the theme for BOB is similar to Murch's schoolwide theme – Celebrations. Each team will choose a wacky holiday (from calendar selections chosen by homeroom teachers) to represent them as their team name and/or mascot. (See examples below.)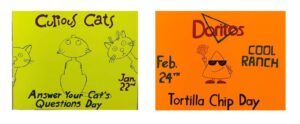 In the battles, students are asked questions about the characters, settings and events in their books.
Points are awarded for correct answers.
Each battle consists of 24 questions. (It is not designed as a "buzz-in" situation. Each team is asked 12 questions in turn.)
Every battle question begins with "In which book..?" Each answer should be the title of the book and the author's name.
In a battle, a particular student may answer a maximum of 2 questions for their team (to allow everyone on the team to be able to contribute!)
In a battle season, each team will have between 6 and 8 battles (depending on the grade level).
The two teams from each grade level with the most points face off in an end-of-school-year BOB championship. (The top two teams from the combined 4th and 5th grades compete in their BOB championship.)
For specific questions about Battle of the Books, please contact Ms. Holly Hope.
Happy reading!