In the interest of keeping our community healthy and safe, the Murch HSA has compiled some COVID-19 resources that we hope will be helpful to you as your family navigates the on-going pandemic.
Stay Informed.
Mask up.
A key component of the DCPS layered mitigation plan is the use of well-fitting masks in the classroom.  The best mask for your child is one that is well-fitting and that your child will tolerate with minimal fidgeting.  The NY Times and the Washington Post have articles that may be helpful as you think about which masks might be best for your child.  The Centers for Disease Control (CDC) also offers great guidance on masks.
Get tested.
The HSA encourages all families to make a plan to regularly test their Murch students for Covid-19.  The DC government has made it very easy to access free testing across the City.  Here are a few resources:
DC Public Testing Sites: The DC Government offers free Covid-19 testing to the public at locations throughout the City.  Right next to Murch, Fire Station 31 has been a consistent and convenient testing location.  Click the link to confirm hours of operation and to preregister for a test.
Test Yourself DC: Pick up a test a local library (including Tenleytown, Chevy Chase, and Cleveland Park), administer the test at your leisure, and then drop them back at the library.  Results are often returned within 2-3 days.
Curative: Schedule an appointment at one of many Curative testing sites in the City, including a couple within a 10-minute drive from Murch. Results are often returned within 24 hours.
Get vaccinated.
The vaccine is safe and effective and is our best weapon in the fight against Covid-19.  While we await FDA approval for our elementary-aged children, we can help keep them safe by making sure that all eligible members of our community are vaccinated.
To find local vaccination sites, including free clinics at which students can win money or prizes simply for getting vaccinated, check out https://coronavirus.dc.gov/page/get-vaccinated.
Appointments are also readily available through CVS, Walgreens, and other local medical providers.
Consider preregistering your elementary-aged children for the vaccine at https://vras-dc.powerappsportals.us/en-US/.
Take the Pledge
At the beginning of the school year, Chancellor Ferebee asked all DCPS families to do their part to keep our schools safe and encouraged us to take the DCPS Stronger and Safer Together Pledge.  You can read the Chancellor's full letter here.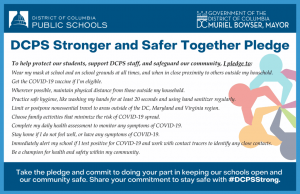 Advocate.
DCPS, OSSE, and the Mayor's Office regulate how the school communicates information about Covid to the community, to include the content, audience, and timing of communications about positive Covid cases at school.  If you have feedback about the current processes, the HSA encourages you to reach out to DCPS, OSSE, the Mayor, and other elected officials to advocate for the changes that you believe will improve this process.