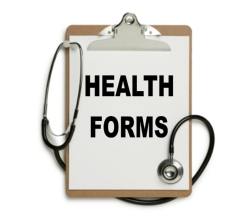 Submission of Health & Dental Forms
If you haven't already done so, please send your health & dental forms via email to Nurse Gebre at mgebre@childrensnational.org and Ms. Stefanie Berger at Stefanie.Berger@k12.dc.gov in the Murch Welcome Center.  This will allow Murch to be in compliance with DC Health's school immunization requirements, which can be found HERE.
Please click links below to access the forms:
We are asking for health & dental forms at your earliest convenience or by the first day of school.
**FYI, health & dental forms are good for 365 days from the date of the exam, at which point the form expires.  Please check the date of your health exam before submitting your form to ensure that your form has not expired.
**The form requires a health provider signature and a parent/guardian signature in order to be valid.  Parents/guardians, please sign and date the health form where indicated.
**Please fill in all student data fields in Part 1 of the Universal Health Certificate: names, addresses, phone numbers and emergency contacts.  The nurse needs this information to be able to contact you.
Immunization Update
OSSE (the Office of the State Superintendent of Education) has asked us to update parents regarding immunization policies and enforcement.
District law and regulations require schools to verify immunization certification for all students as part of attendance (DC Official Code § 38–501 et seq. and DCMR 5-E § 5300 et seq.)  During the 2021-22 school year, all schools will be required to enforce this District immunization law by requiring immunization certification as part of school attendance, including notifying and removing non-compliant students from in-person and virtual instruction after a 20-school day period until they obtain the necessary immunizations (DC Official Code § 38–505).
OSSE has asked all schools to encourage families to review their immunizations during the summer in order to
protect children from vaccine-preventable infection and
give you as much time as possible to make appointments with health care providers and receive necessary immunizations before the start of school
Please send immunization forms (with your health and dental forms) to mgebre@childrensnational.org and cc Stefanie.Berger@k12.dc.gov.
The DC Health Immunization Program is available to support schools and families with immunization information, data, and access to care in the District. OSSE's Health and Wellness team is also a resource and can be reached at OSSE.SchoolHealth@dc.gov.
We will share any additional information with you here.  Please check the Murch website frequently.
Stay safe,
The Murch Health Team