Monitoring each student's progress and providing appropriate interventions and opportunities for enrichment while maintaining a school wide commitment to the academic success and general well-being of all students;  regardless of background or circumstance, is an essential component of the Murch Elementary School Mission.
In an effort to continuously address this mission, Murch Elementary has implemented the district wide model for providing student support systems, embodied in the DCPS Response to Intervention (RTI) process. The RTI process will work to increase student achievement, address behavioral problems and improve student attendance.
The Individuals with Disabilities Education Act (IDEA) requires local education agencies to use RTI models. RTI is an educational framework that is designed around a multi-tiered approach to the early identification and provision of supports to students when they are struggling academically and/or behaviorally in the general education setting.
The essential components of RTI include: a three tiered system of research-based intervention and strategies matched to student needs; a collaborative problem solving method; and an integrated data collection assessment system to inform decisions at each tier of service delivery. The multi-tiered approach provides services and interventions to students at increasing levels of intensity based on progress monitoring and data analysis.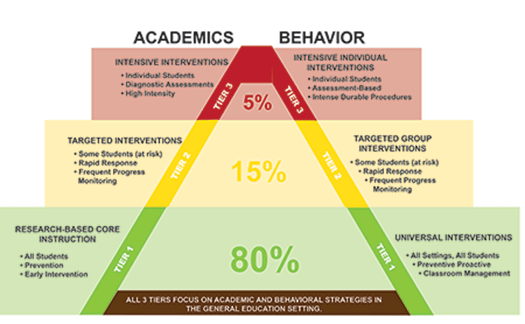 Response to Intervention Core Principles
•    We can effectively teach all children
•    Intervene  early
•    Multi-tiered model
•    Use of a problem-solving method to make decisions
•    Use of research-based, scientific validated interventions/instruction
•    Use data to make decisions
•    Use assessment in screening, diagnosis, and progress monitoring
•    Monitor student progress to inform instruction
Save