Every year, the Murch Home and School Association (HSA) raises vital funds that benefit our children by paying for additional resources that augment your child's elementary education.  The HSA funds an array of items, including experiential learning, supplemental field trips, student programming and performances, extracurricular activities, science materials, and more.
The SOS Campaign is a straightforward donation to the Murch HSA and allows Murch families to directly impact their child's educational experience.  This is simply the most efficient way to raise money that goes straight to improving our children's education without the overhead costs and volunteer hours required by other fundraising efforts.  This also means that your entire donation to the SOS Campaign is tax deductible.
These collective, voluntary, and tax-deductible gifts help to continue to make Murch one of the finest schools in the city.  Please be a part of this critical support for our school. No donation is too small, as it all helps us provide the best experience for our kids. 
Save
The SOS has two important goals for this school year:
Encourage 100% participation from all Murch families - a gift at ANY level makes a difference!
Raise $110,000 to provide the resources and support needed by all Murch students from Pre-K to 5th grade.
Your gift of $500 or more per child can make the difference in meeting our financial goal, but gifts at all levels will help the HSA provide our children resources above and beyond those budgeted for by DCPS. 
Contribute in Easy Monthly Installments: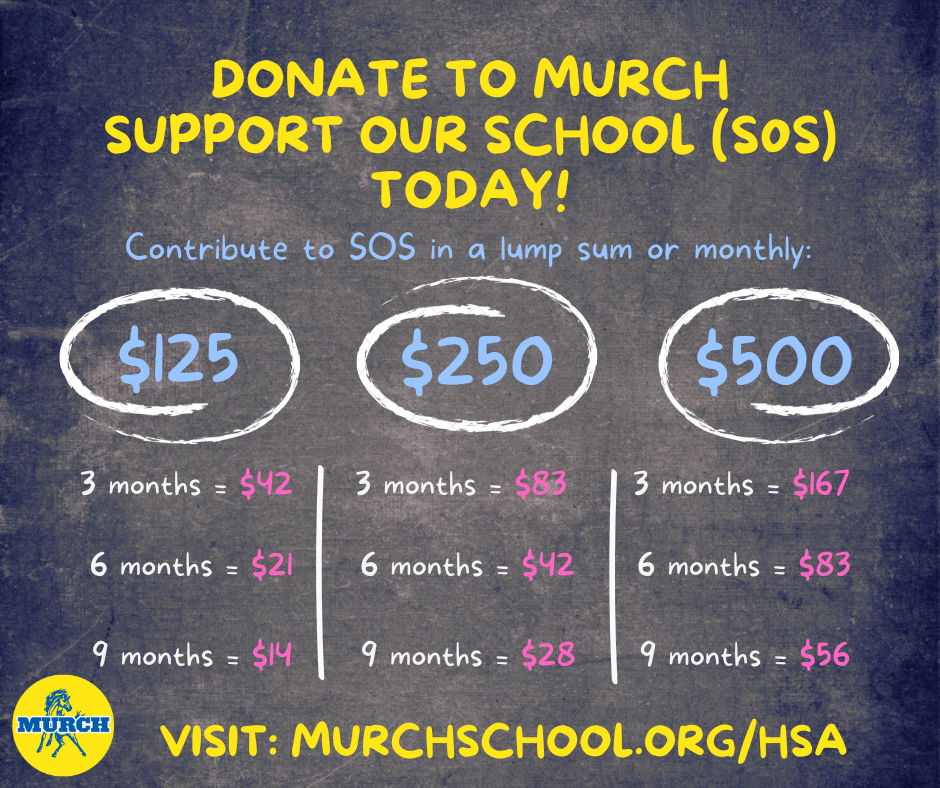 We recognize that families give their time, talent and treasure to Murch in many ways and we are enormously grateful. We also appreciate that within our diverse community, families will make donations that are significant to them and commensurate with their financial capacity.  Giving at a more modest level is just as important in reaching our family participation goal. If we all give what we can, we know we can meet our goals. Thank you in advance for your contributions.
How does the HSA support Murch?
To make the Murch HSA's work possible, we need help from all members of our community through the SOS Campaign. Jason Levin, 2022-23 Co-Chair of the SOS Campaign, sat down with Murch faculty and staff to understand how the HSA supports their work.
"Due to the HSA teacher grant program, my classroom has significant changes and upgrades which would not be possible without the support the wonderful parents of our community give our teachers. The teacher grant program alleviates stress and makes our students and teachers happy -- what else could you ask for?" -- Katelyn Brady - K-2 Reading Specialist

Save
Save
Save
Save
"Without the HSA Teacher Grant Program, I would not have as many amazing resources and tools in my classroom as I do now. Each year, the grant program helps me to introduce new and exciting activities to my students that I would not have the opportunity to do otherwise." -- Alicia Pines - ELL Teacher

Save
Save
Save
Save
Does your workplace have a United Way program?
If your workplace has a donation program via the United Way, you may prefer to donate to the Murch Home & School Association (HSA) that way. The Murch HSA is not a member agency of the United Way campaign. However, it is possible for you to write in Murch on your pledge card. Simply list the donation amount and the following information:
Ben W. Murch Home & School Association
PO BOX 6356
Washington, DC 20015
Phone Number: 202-244-2422
Tax Identification Number (TIN): 52-6053804
If you contribute through your employee donation program, please still submit an SOS pledge form to the HSA, indicating your donation, so that we may acknowledge your contribution.
You can donate online or by check– it's easy!
All donations are voluntary and tax deductible. To donate online, click "Donate Now!" below and complete the form.  Prefer to send a check?  Please mail to: Murch SOS, PO Box 6356, Washington, DC 20015.