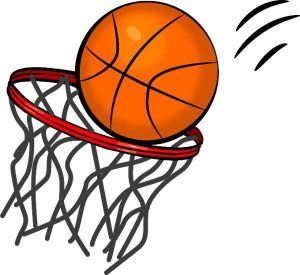 10/29 Update Regarding Boys Team:  Per Principal Cebrzynski, a 4th grade boys tryout has been added to the calendar.  This tryout will be on Thursday, November 4th (for 4th grade boys).  Please see the calendar below.  As a reminder, the team will be capped at 15 students.  If you have any questions, feel free to contact Principal C via email.
Basketball season is almost upon us, and we're excited to announce the kick-off to our season!
TRYOUT/WORKOUT SESSION:  We will hold tryouts/work out sessions on the following dates:
Boys Team:  Monday, November 1st (for 5th grade boys) from 3:30-4:30 PM in the Murch gym.
Girls Team:  Wednesday, November 3rd (for 4th & 5th grade girls) from 3:30-4:30 PM in the Murch gym.
Boys Team:  Thursday, November 4th (for 4th grade boys) from 3:30-4:30 PM in the Murch gym.
**Parents/guardians, please let classroom teachers know if your child will attend a tryout so our teachers know where to dismiss students on that day.  Students should report to the gym by 3:30 PM on their tryout day.
All students are required to submit paperwork (see below) prior to the 1st meeting/tryout.
PAPERWORK:  Required paperwork can be submitted electronically via seamless:  https://dcgov.seamlessdocs.com/f/c4a57hp5qjqy
The paperwork to submit online includes consent for athletic participation (AT-13), emergency treatment information (AT-14) and a signed concussion information sheet.  In order to have your paperwork reviewed by a DCPS athletic trainer and your athlete deemed eligible, you will also need to attach a universal health certificate (the form needs to be unexpired with an exam date less than 365 days old and signed by a parent/guardian), as well as other health forms (i.e. asthma action plan and/or anaphylaxis action plan) if needed.  You can attach documents by clicking the paperclip icon on the top left side of the screen.
While we prefer electronic submissions, paper forms are also available (and accessible in multiple languages) via this link:  https://www.thedciaa.com/participation-forms  If you need to send paper copies, please send the forms to Murch.Athletics@k12.dc.gov or drop them off at Murch.
Murch has to submit team paperwork to DCIAA no later than November 15th (this is a strict deadline), so please submit paperwork ASAP or no later than the tryout date so there is time for the athletic trainer to review and approve the paperwork. 
PRACTICES:  Once tryout results are announced, the girls team generally will practice on Tuesdays and Fridays from 3:30-4:30, starting November 9th.  Please note the girls also will have practice November 10th.  The boys team generally will practice on Mondays and Thursdays from 3:30-4:30, starting November 15th.  Once games start in early-December, coaches may shift to 1 practice per week on weeks with games.
COACHES:  Coach Nicole Bates will coach the girls team and Coach Jordan Tama will coach the boys team.  Thank you to these Murch parents for stepping up to coach!  If you would like to help or have any questions, please reach out to either coach directly.
We look forward to a great season!  Go Murch!!