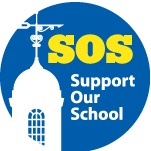 So far this school year, the Support our School (SOS) campaign has raised over $14,000 from 20 families!
Consider making a gift TODAY, a gift that is meaningful to your family: $5, $25, $100, or more! Every donation makes a difference.
And if you make your gift to the SOS campaign by September 27, you will have a chance to win two pizza pies and four bottles of water for Movie Night on September 29! All families who have made a donation of any amount to this year's SOS campaign by September 27 will be eligible. What's not to love?
You can donate online or send a check to:
Ben W. Murch Home & School Association
PO Box 6356
Washington DC 20015