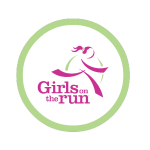 Girls in grades 3-5 are invited to join the Murch Girls on the Run team.  
Girls on the Run inspires girls to be joyful, healthy, and confident using a fun, experience-based curriculum which creatively integrates running. 
The Murch team is full but there is a community team that will practice at Fort Reno on Mondays and Wednesdays from 4:30-5:45 starting on 9/13/21.  Families MUST register online at www.gotrdc.org and choose the N. Cleveland Park/Wakefield team.
If you have any questions, please email Kathleen Bergin at kathleen.bergin@k12.dc.gov.